The Scourge of the Beautiful but Dreaded Spotted Lantern Fly
One project at Monocacy Hill involves herbicide treatment of ailanthus trees.  The trees were marked by the PA Dept of Agriculture and the USDA for treatment.  We will continue to restore the treatment areas by planting native trees.
You can help by killing any spotted lanternflies you see, removing egg cases and removing any ailanthus trees you have on your property. If you take down an ailanthus tree, the stump must be treated with an herbicide, or it will resprout. Egg cases can be found on any smooth surface including lawn equipment , rocks, tables, etc.
For more information go to the pa dept of agriculture website below.
www.agriculture.state.pa.us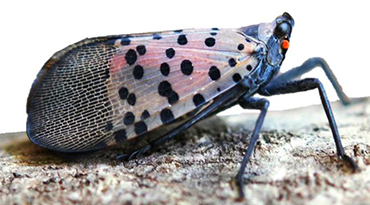 Spotted Lantern Fly is an invasive insect from southeast asia that arrived in berks county in 2014. The primary food source for the this insect is the ailanthus tree (above) which is also an invasive species.
The spotted lanternfly has no known natural predators in the us.  It can feed  on a variety of our native trees.  They can jump and fly a good distance as adults.
These are photos of ailanthus trees, also known as the tree of heaven. They grow prolifically in disturbed areas , right of ways and highway corridors. To identify them , look for the notch at the base of each leaflet.  The leaves also have a strong  unpleasant odor. Do not confuse ailanthus with native sumac or walnut trees. The leaves are similar.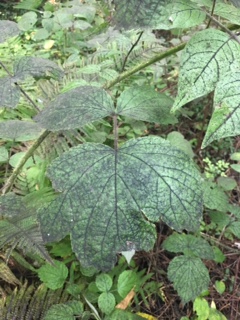 The reason these insects are so damaging is this:
While they are up in the trees feeding , they are dropping a sticky waste on everything below. This sticky substance attracts something called sooty mold, turning leaves and plants black. This will eventually kill these plants.
The damage to grapevines , fruit trees and lumber trees in pa could be substantial. Your own landscaping plants and trees could suffer from this also.