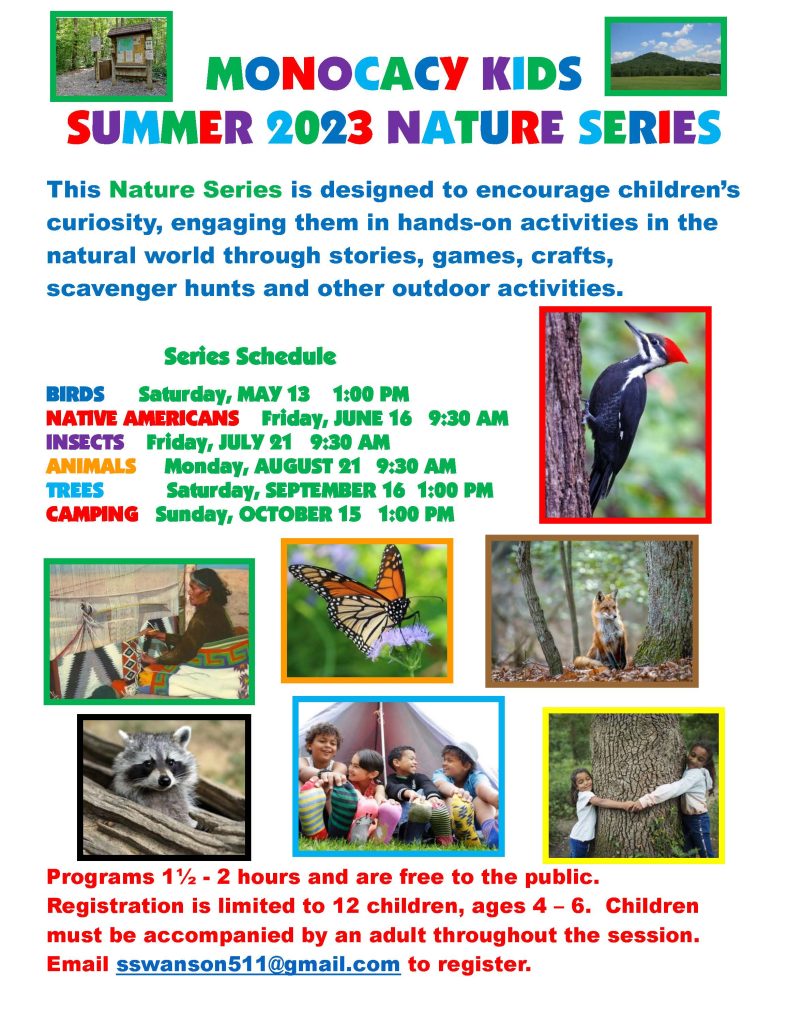 Hiking
As you can see from the calendar, hiking is the number one activity at Monocacy Hill.  There are many different trails to follow and interesting items and views on the way. 
Don't miss the wonderful views from the peak on Monocacy Hill Trail (white blaze) which climbs the hill to the summit (680 feet above sea level). It continues a shor distance over the summit to the lookout where there are excellent views of the Schuylkill River Valey and the Monocacy Creek Valley.  It then descends to meet the Lower Trail.  It turns right and circles the hill past a cement structure that was build in 1925 for a quarrying operation that was never completed.  The trail then turns sharply right and ascends the hill for a short distance, then left until it reaches Geiger Road. The parking lot is a short road walk up the hill to the right.
The Creek Trail (blue blaze) turns left off the trail a short distance from the parking lot.  It travels over boardwalks, a bridge, and then to a bank which follows along the creek, then down to another bridge.  It turns right past a lovely waterfall, continuing to follow the creek bank until it turns left and ascends to meet Lower Trail. 
The Lower Trail (green blaze) is found just beyond the Creek Trail when you reach a fork.  Stay left to walk about the southern end of the park.  Lower Trail passes both the upper and the lower ends of Stonewall Trail.  Where the two meet is the homestead of Sallie Shirey. (You can read more about her here.)
The Stonewall Trail (red blaze) turns right off Lower Trail and after passing the homestead, follows an old stone wall until it links again with the southern end of Lower Trail.  It is a "short cut" if you don't want to take the longer Lower Trail route back to the parking lot.
The Railbed Trail (yellow blaze) descends off the end of Lower Trail to meet a woods road before it does several switchbacks to where it turns right on the old railroad bed for the quarry.  It is another loop back to Monocacy Hil Trail. (You'd think the old concrete railroad foundation would be on Railbed Trail, but it is not.  You will find that on Lower Trail beyond the Monocacy Hill Trail turnoff.)