WELCOME TO OUR WEBSITE !!
FOR INFORMATION ABOUT OUR ORGANIZATION AND MONOCACY HILL RECREATION AREA, AMITY TOWNSHIP, BERKS COUNTY, PA.
Monocacy Hill Recreation Area is a 428 acre forest located in Amity Township , Douglassville, PA. This recreation area was purchased by Amity Township in 1967 for open space and recreation purposes. It features about 6 miles of forest trails and is open year round from dawn to dusk for a variety of activities. Park rules and trail maps are available at the park entrance on Geiger Road.
Click on the picture below to view a short video montage of Monocacy Hill by Daniel Marmontello -- and don't forget to view in "full screen"!
MONOCACY HILL - Video by Daniel Marmontello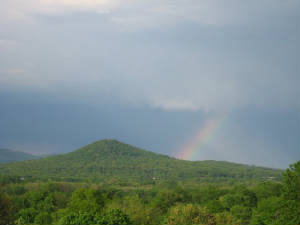 Click on the Photo for a Video Highlighting Monocacy Hill
Monocacy Hill is a valuable natural resource in this area, providing habitat for wild animals and plants, watershed protection and various kinds of outdoor recreation for the people of this region. With development increasing all around us, Monocacy Hill is one of the few natural open spaces remaining in the area. MHCA assists Amity Township year round in maintaining the trails and facilities. The work that we do allows area residents to enjoy this beautiful recreation area.